The HBAC coaching team consists of many UK Athletics qualified Coaches, Assistants and Leaders in Running Fitness.  The coaches below are regular attendees on training nights.  If you are new to the club, please look out for one of these faces and they will welcome you to the group.
The Coaching Team
Dan Allaway
Head Coach
Dan has been coaching for 6 Years and is the HBAC head coach.

He took up running in 2011 as a way to keep fit but soon fell in love with the sport. For him running is about enjoyment and is for everybody; whether you are racing, running for fitness or just enjoying the social side of running. 
In particular Dan gets great satisfaction from his C25k (couch to 5K) groups and seeing many athletes progressing from not running at all to completing a 5k in 10weeks.
He also gets great enjoyment on seeing athletes turn up to training, week in and week out, put the effort in then reap the rewards. Whether finishing top 3, doing well in age category or achieving  a personal best.
His own achievements
10k 36:04
10 miles 60:58
Half Marathon 79:31
Full Marathon 2:57:16
He is also not afraid to try something different. Having spent the first 7 months of 2021 training for a 100k Ultra Marathon and completing it in 12 hrs and 47 mins.
His Goals for the future are to continue staying race fit, enjoy running, cycling, walking, paddle boarding, while  getting the best out of those that turn up to training.

Sarah Barnett
Head Coach
Sarah has been with the club since 2010 and has run 14 marathons including London and Brighton. She started off coaching by assisting as a Leader in Running Fitness and after a few months was encouraged to take the next step in becoming a Coach in Running Fitness. Sarah works with Dan on developing training plans for the clubs gentle group which is growing all the time, and for the past two years has organised and run the "Get Up and Run" programme.
As well as taking part in road races she's also keen on the tough mudder and GRIM races.... just think of the Lord Wandsworth course with ten times more mud and water! Sarah is currently working on strength and conditioning and can often be seen hanging upside down on TRX bands!
Paul Fleming
Athletics Coach
Paul qualified as an Athletics Coach in 2011 so that the club could set up the Junior section; prior to that he used to develop running sessions for the seniors. In order that we could expand the junior section he took further qualifications in Sprints and Hurdles, Jumps and Throws for the event group specialists ( athletes over 14 years of age).
Prior to becoming a coach Paul was a keen athlete and runner covering distances of 400m up to the marathon, clocking sub 3 hour times for the latter; he says "as old age and injury took over preventing me from training as much as I used to, it enabled me to give something back to the sport and become a coach".
Paul also takes the much loved senior 'supersets' sessions during the summer.
Dave Bateman
Athletics coach
Dave joined HBAC in 1995 and has been involved in a number of roles, with his current position of Athletics Coach being what he has enjoyed the most. As a senior he was part of the Men's Track and Field team and in his own words "pretty awful at throwing and jumping events". Running has always been his passion with his 10k PB 37 mins, and being involved in the clubs' Get Up and Run program is one of the most rewarding aspects of coaching he has experienced.
Issy Peters
Seniors Running Coach
Issy has been a member of the club for over  10 years.  She started to help out at the club first as  an "Assistant Coach", then qualified as a "Run Leader", and has recently qualified as as a "Coach in Running Fitness".  Issy enjoys coaching both the juniors and the seniors at the club.
Issy has raced in every distance from 5km to Ultra marathons, and Sprint distance Triathlon through to a full Ironman in July this year.  She has also represented GB in the Age Group Olympic distance world championships in triathlon,  the Age Group world championships in Aquathlon, and the Age Group European Championships in Duathlon; as if that wasn't enough, Issy has completed over 40 marathons, and she says the one she most enjoyed was New York, as the atmosphere was amazing, even better than London.
 Issy says what she loves most about coaching is seeing runners of ages achieve their goals, whether it's a Park Run or a Marathon.

Annalisa Alexander
Coach in Running Fitness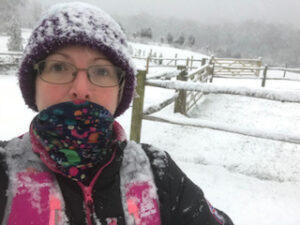 Annalisa joined HBAC in 2011 after a friend and fellow HBAC member dragged her along to a training session one night to cheer her up. Understandably, she was in a pretty bad place emotionally and physically having just been through treatment for Breast Cancer at the tender age of 33 but it turned out to be the tonic she needed.  Never one to be downhearted, Anna threw herself into the club and somehow has managed to complete countless races including 2 marathons, 4 half marathons, 7 Great South Runs and 10 Cancer Research 10Ks. She is most definitely NOT one of the elite or fast runners and regularly gets overtaken by slugs on the pavements of Haslemere, but she never ever gives up and will always be seen with a smile on her face and a spring in her step. Annalisa wanted to help others realise the benefits of running for physical and mental health and became a Leader in Running Fitness for the club. She helps the senior and lead coaches with their sessions and in particular, supporting the popular Get Up and Run (couch to 5K) series. Helping others get out there and discover running is what makes her truly happy. That and cake. And wine. And sometimes biscuits.
Ann Varnes
Leader in Running Fitness
I took up running at the age of 60, having been persuaded by my children to sign up for a C25k course, run by Dan. Completing my first 5k in June 2017 and then joining HBAC, 4 months later completed the Great South. Have since run 10k's, half marathons, XC events, ran the London Marathon in 2019 and the 2020 Virtual London Marathon. Favourite race the Bacchus half marathon, for the great company and the wine and the London Marathon for the atmosphere and the sense of achievement.
Have gained so much enjoyment from running, met new friends and love taking part in all events from social run outs, to races and training. Giving something back to those who have helped me, led to me become a LIRF in 2019. There is nothing better than assisting with C25k courses and encouraging others on their own journeys.
2021 will see me running the London marathon again and looking forward to new challenges.
Lorraine Herring
Leader in Running Fitness
I'm Lorraine and I've been a Leader in Running Fitness for about 4 years. I'm what you'd call a more mature runner and I'm definitely not fast!
I got my LIRF qualification as I felt passionate that everyone should be given a chance to run whatever your speed and fitness.
If you're thinking about joining, please don't hesitate. We are a fabulous club full of wonderful coaches and there's a place for everyone...you won't regret it!
Philomel Bennett
Leader  in Running Fitness
Philomel started running in June 2014, after moving from Cambridge where she had previously focussed on cycling and she took part in her first 10k by entering the HBAC Punchbowl Challenge in October of that year which then prompted her to join the club. The main reason Philomel joined the club was to meet light-minded people, and to develop her running technique and to have fun!  Philomel instantly took a shine to cross-country after participating in the 2014-15 Southern League XC season, as it not only gave her an opportunity to compete but to find confidence in her running ability and this then prompted her to enter other races with some pretty impressive results within her age group given it was her first year within the sport. Fast-forward to October 2015 and there was the opportunity to enter the VLM Ballot, and by chance Philomel won a place. She ran her first London Marathon in April 2016 in a time of 4.11.29 and after that she was hooked. She has since gone on to run 10 more marathons, and her most impressive run was at Dublin in 2018 where she ran an amazing time of 3.20.21. In 2019 she entered her first Ultra Marathon (Surrey Hills Challenge) and finished in an impressive time of 07.18.11 (5th in her Age category).
In 2015, Philomel took up the role of Club Secretary, as a way in which to immerse herself within the club. She arranged a number of social/running events which included the South Downs Relay for all abilities of runners and this then inspired her to get involved in the Get Up and Run group. In 2019, Philomel completed the LIRF course, and along with her fellow coaches successfully achieved her first HBAC Get Up & Run Course.  Philomel still has her sights on other races, but for the time being she is at her most happiest running her weekly distance (40miles) and inspiring others with her passion and humour for the sport that she clearly loves.

Steve King
Leader  in Running Fitness
Steve joined HBAC in 2013. After getting into the London marathon ballot on his first try he needed support of a club for the training program. Since then he has gone on to do another 7 marathons including 4 at WDW in Florida. Steve has also completed numerous half marathons, 10k's and 5k's. In 2017 Steve completed his LIRF training (leader in running and fitness) and enjoys helping new runners including the clubs C25K group. Steve always tries to make his running fun and can often be seen at races in fancy dress.