Runners are a social bunch.  There's usually always an opportunity to grab a coffee, or a pint after some of the training sessions (and in the case of the Boxing Day Run, even during!) but we also have a fabulous social committee who organise a proper Christmas shindig, summer get together, quiz night and many more events for everyone to toast to new PB's and compare running injuries. Every third Tuesday we get together following training so stick a fiver in your lycra and be prepared to stick around for another hour or so.
Summer Pub Runs
For the summer, we have started up regular Pub Runs, we will meet at a pub in the local area, take a number of groups for a varying length 1 hour (ish) run and then have a cheeky drink and some chips (both optional).
Check back here for venues. Dates will be as follows, so be prepared to be home a bit later than usual on these days:
May 26th - Prince of Wales Hammer
June 23rd - Rising Sun Milland
July 28th - Suzie's house
August 30th - Red Lion Fernhurst
Bowlhead Green Handicap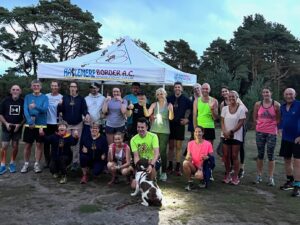 This year, following a Lockdown induced hiatus, we held the Bowlhead Green Handicap. This is a 8.5 mile course which starts and ends at the Punchbowl cafe car park. Strava route here (make sure you go in the right direction!)
To enter next year (September 2023), you need to run the route prior to the day of the event and send your times in to press@hbac.co.uk which will be your handicap time relative to the person who runs it the fastest.
You will then be given a start time relating to your handicap time and the winner is the person who arrives back at the start first. The winner will get a trophy (assuming we can still find it) and a small alcoholic prize; we will then have a small social event.
Remember to keep an eye on Facebook for impromptu drinking sessions and social events!